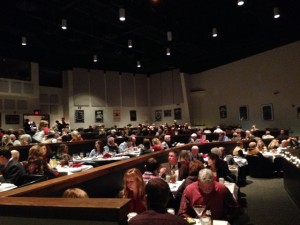 WYTHEVILLE, Va. – Supporters of the proposed Appalachian Regional Exposition Center say their recent fundraising event far exceeded their wildest expectations. A sellout crowd of more than 240 individuals gathered inside the Wohlfahrt Haus Thursday evening as the 501(c)(3) non-profit committee treated patrons to a meal and performance by the renowned stand-up comedian Jerry Carroll.
Tickets for the event were set at $30 per person or $50 per couple. Organizers of the fundraiser say the event's many business sponsors, 25 in total, helped to keep the price of general admission at an affordable rate for residents.
At least four members of the Wythe County Board of Supervisors were in attendance at the event, as well as dozens of business leaders from throughout the region.
The proposed facility will include a 60,000-square-foot arena with 3,000 permanent seats and 2,000 additional floor seats for concerts and similar events.
Additional plans call for multi-purpose athletic fields, livestock barns and an outdoor dirt ring.
Earlier this year, Wythe County purchased a 95-acre site for the facility near Exit 77, where I-81 and I-77 meet. According to county officials, roughly 40-acres will be reserved for the facility and the remaining acreage will be used for commercial development.
Site prep plans are slated to begin in early 2016 and organizers say they expect for construction to commence by the spring of next year.
Wythe County Extension Agent Matthew Miller says the center will be an economic incubator for all of Southwest Virginia.
"There's no reason why the facility can't be used every weekend for some type of event – dog shows, livestock shows, motorsports, concerts – if you can imagine it, we'll be interested in hosting the event," said Miller.
Earlier this year, Wythe County received a $750,000 grant from the Virginia Tobacco Commission to assist in the construction of the facility. AAEC, the 501(c)(3) organization tasked with raising funds for the regional exposition center are in the process of finding a suitable corporate partner interested in purchasing naming rights to the center, as well as additional sponsorship opportunities.
For more information, about the proposed facility, citizens are encouraged to visit the committee's official website, www.AppalachianExpo.org.
Share this article with your friends on Facebook!