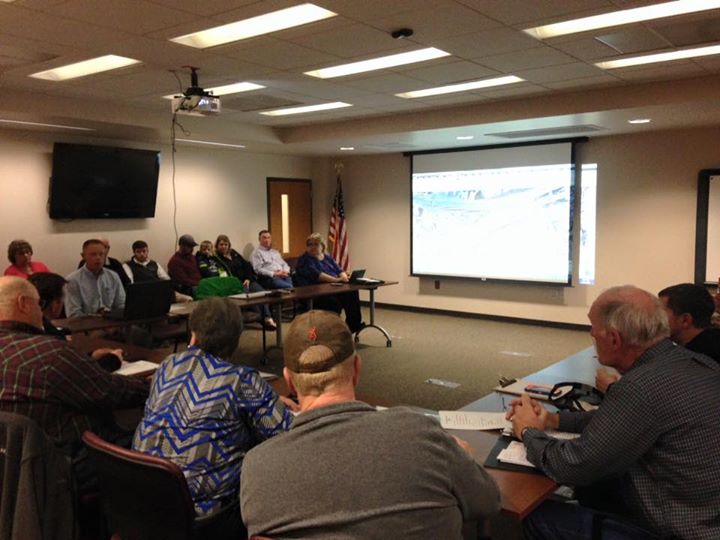 Like the Appalachian Expo on Facebook: Facebook.com/AppalachianExpo
WYTHEVILLE, Va. – Members of the newly formed Appalachian Regional Exposition Center Authority held their first organized meeting Wednesday evening in the Wythe County EOC Room, located at 290 S. Sixth St. in Wytheville.
The seven-member board, which includes two members of the AAEC (a non-profit organization that first envisioned an agriculturally-themed exposition center for Wythe County over a decade ago) selected officers and discussed site layout and building plans with members of the Lane Group, a professional engineering and architecture firm.
Plans for the finished product of the Appalachian Regional Exposition Center call for a 6,000 capacity facility, three livestock barns, outdoor show ring, and multi-purpose athletic fields; organizers say the center, which will be visible from Interstates 81 and 77 in Wythe County, will have the ability to host concerts, rodeos, motorsports events, exhibits, indoor sports, and a host of other activities.
The board of directors selected Wytheville resident Artie Hall as chairman of the newly created authority and Rural Retreat milk farmer Jim Huffard as vice-chairman.
"I'm honored to have been chosen to serve as chairman. There are countless people working hard to make this facility a reality and I'm eager to join them," said Hall.
Leaders of the authority have scheduled a meeting with the AAEC in order to discuss ways the non-governmental, citizen committee can assist in raising funds and helping to promote the facility. The AAEC, which is comprised of several of the county's agricultural leaders has agreed to help raise funds in order to support the facility's operation.
"We've been working toward this day for well over a decade. We're excited to see the fruits of the labor of so many are finally paying off. We're committed to doing our part to ensure the Appalachian Regional Exposition Center is an overwhelming success," said Mark Munsey, chairman of the AAEC.
In recent years, the AAEC has hosted several events including comedy shows, fundraising dinners, livestock shows and horse shows.
According to Munsey, the AAEC will be announcing additional events in the days ahead.
Share this article with your friends on Facebook!